OUR SUCCESS STORIES
Here are a few or the horses we have raised and sold in the past years. Some we bred, some we bought as "baby" prospects. All were raised with love and taught to be the best they could be - and all have made us very proud of them!

---

"EDGER the GREAT "

(Edge of Paranoide, 2003 gelding by Raisor's Edge x I. B. Paranoide)

August 2007 photo in training in Southern Pines, NC.

Photo October 2013, HAPPY horse and owner!

---

"KEENER" August 2012

Keener Edge, 2004 gelding by Raisor's Edge out of I.B. Paranoide

photos at six years, at the March 2010 Bernie Traurig clinic

Michael Traurig riding

This is the third Thoroughbred foal from I.B. Paranoide, aka "Pet the Pill", our senior broodmare, foaled in 2004. Pet has been an outstanding producer to every stallion we have bred her to, and this colt is an excellent example of the kind of youngsters she's given us. His sire is Raisor's Edge, a stallion we liked enough to own a share in. Keener is very representative of Raisors get, being tall, beautiful, very correct and with a loving and easy-to-live-with temperament.

Keener is currently training in Southern Pines NC, making his owner Ellen proud.

---

"DIVA" & Zandy May 2007

(Rootintootinshoot aka Twilight Dancer)

---

"SWEET"

Star Superior, aka "Sweet", with his proud owner Elysia Ruvinski
show photo by Scarlett (tm)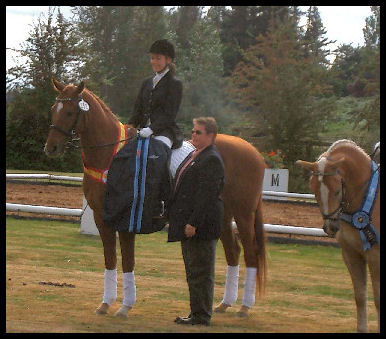 Sweet is a horse we purchased as a colt, and he's surprised a more than a few people with his talent and beauty. (we always knew he had it in him) He and his loving owner earned Reserve Champion at 2nd Level at the Cascade Championships at Donida Farm in September of 2005 . Elysia's consistent hard work and her own talents for training and riding him are really brought this good young horse along nicely!
---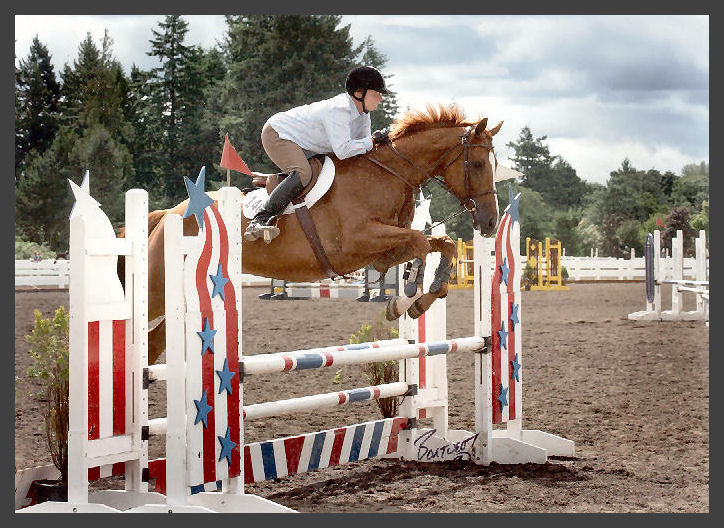 photo by Jim Bortvedt
"Buddy" (registered name Somfas Pleasure) is a Thoroughbred gelding that we bred and raised. A full brother to our elder gelding AdAblurr, Buddy was always a very special horse, being tall, perfectly conformed, beautiful and very, very talented. He was bought by Shelly Kerron , produced and taken to HITS Tucson where he won his championships, and then resold to someone in California. We'd love to know where this good gelding is, and that he is doing well for his current owner!
---

June 2007
Speckledy Mare
(with her new girls, Abbie and Emma)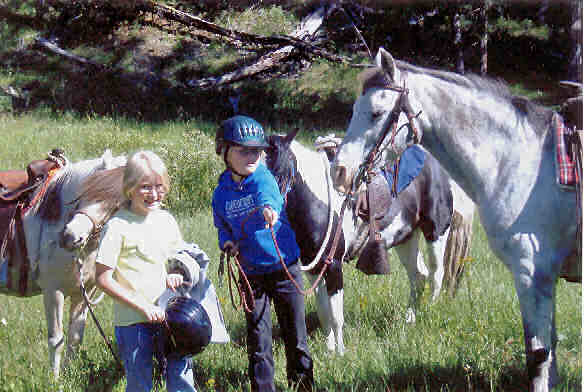 ---

Edger as a yearling
Watch for more news and pictures to come!