Oliver is a purebred Irish Draught , ManuForti's Touch Down RID, from ManuForti Farms, in Kansas. He is bred from the best of the Irish Draught, being a son of the legendary stallion Touch of the Blues RID, and out of a Select Hornby Premium daughter of the outstanding sire of broodmares, Gort Boy RID. Touch of the Blues now has nine Approved RID sons standing all over the world, as well as many other Champion get in several disciplines.
We brought him home as a five-month old weanling in 2004. At his inspection at the age of three in September 2007, he was measured at 16:1-1/2 hands, 1600 pounds, 78" girth, a ten inch cannon and a size five shoe. (metric measurements: 25.4cm cannon. 170.0 cm tall, and a girth of 198 cm)
At six years old in January of 2010, he measured 16:3-1/2 hands, weighing 1650 pounds, with a girth of 86 inches, and his cannons measured at 10-3/4 inches. (metric measurements: 27.5 cm cannon, 171 cm tall, and a girth of 213 cm)
Ollie has been a wonderful horse to take to shows and promote our breed with. He loves meeting and greeting new people and is particularly fond of and gentle with children.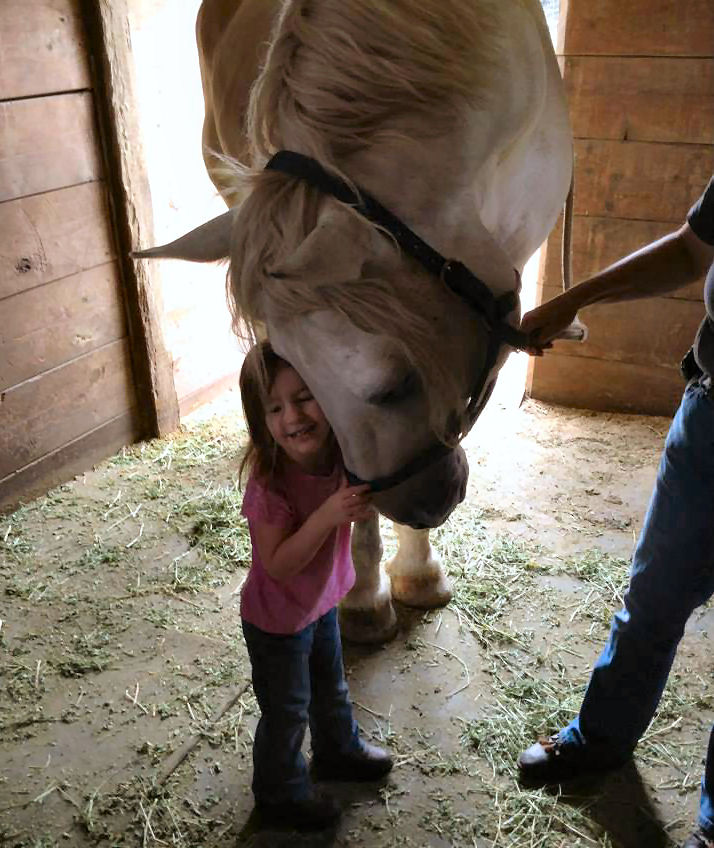 Oliver is of very traditional Irish Draught type, with a kind and loving disposition, tremendous bone, terrific feet, correct structure, free movement, and a lovely refined head. He is truly a joy to live with!
May 2012, age 8 years photo at home
2010 Hunter Sire of the Year
for Northwest Sport Horse Breeders Association

As of Summer 2013, Ollie has six gorgeous fillies, three beautiful colts.

Pretty Please, grey filly born May 13, 2009

Sweet Tater, grey filly born May 31, 2009

Saoirse's Aibhailli, bay purebred filly born August 8, 2009

********************************************

Keepsake's Platinum Touch, grey purebred filly born June 4, 2010

*********************************************

Saoirse's Proud Touch, black bay purebred colt born April 16, 2011

Pretty Fancy, grey sporthorse filly born June 21, 2011

**********************************************

Three more beautiful sporthorse babies foaled Spring of 2013

Quintessential Gentleman "Quinn", black/grey sporthorse colt born April 7, 2013

Pleasing Touch , chestnut/grey sporthorse filly born April 8, 2013

Winning Touch, bay/grey sporthorse colt April 20, 2013 - Dec. 2, 2013, RIP Win
____________________________________

September 2009 Breeders Classic Shows

2009 show photos by Carolynn Bunch

_______________________________

September 2007 at three years old

Northwest Sporthorse Breeders Classic show

"Very Masculine, adorable head"

(remarks by judge Carter Bass in September 2007)

Still adorable at six years -May 9, 2010

photo at home by Kate Triplett

IDHSNA #MP 04 01203; IDSH Canada #1M 040108

As of November 27, 2012, Ollie is recorded as RID(CAN) in the Irish Horse Registry, IHR 3285792.

"Stallions with RID(CAN) status have identical rights and privileges to stallions holding Class 1 status." RID(CAN)is the status given to horses awarded full breeding approval as RID prior to harmonization of the Canadian Studbook with that held by Horse Sport Ireland in Ireland.

We have opted to not stand Ollie to the public for 2015.

He will continue to be his owners' happy saddle horse.