Dreams Come True, 17:3hh 2006 Irish Sporthorse gelding
FOR SALE
As of January 2014, Dreamer went back to work with jumper rider Kelsey Powell, after taking the winter off. He resumed his work as if he had only taken the weekend away - perfect manners, all the buttons working, and happy to be busy again. He is a gregarious horse, a cuddly puppy-dog personality who loves people.

In October 2014, Dreamer attended an intensive ten-day show-jumping clinic with British instructor (and steeplechase rider) Jody Sole of JS Equestrian. He and Kelsey really improved their technique under Jody's expert tutelage!
Exercises over four-foot fences.
Now a solid 1.1 m jumper, he has the power and scope to go higher easily, and is also happy to show at the lower levels for an amateur rider. Dreamer is the same horse at shows that he is at home, unfazed by busy surroundings, a great loader and solid hauler, a no-worries kind of guy
| | |
| --- | --- |
| | |
| photos April 2014 | photos April 2014 |
May 2013, ridden by Kelsey Christine Powell
He is very tall, an honest 17:3 hands, is a bold, forward and correct mover, and has extraordinarily rideable gaits. Dreamer has a sweet cuddly temperament, he's fun to live with, reasonable, highly intelligent and enjoys his work. Goes in a snaffle, medium tree saddle, 58 inch girth (CWD jump saddle) and 28 inch girth(long billet dressage saddle). Good to groom, clip, bathe, shoe, deworm, vaccinate, trailer etc etc.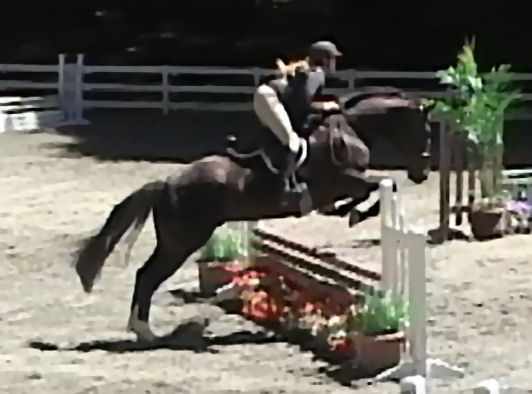 First HUNTER SHOW July 2013 video clip
****************************************************************************************************
| | |
| --- | --- |
| | |
| photos May 2013 | 2013 in work at home |
Nov. 30, 2009 - Dreamer was the Reserve Champion Hunter Breeding 3 YO for the Northwest Sporthorse Breeders Association Year End Awards!
He also earned Reserve Horse of the Year in Hunter Breeding 3 YO, in 2009 standings Zone 9 USHJA/USEF
in-hand show video by JC-Video.com
***********************************************************************************************************************